Melissa Kennison, Special Education teacher, at Golding Middle School has created a virtual library of information rearding students with disabilities.  
You may find these videos helpful with creating lessons for your differentiated population.
Happing viewing!
more
Mr. Fitz - Education comic strip
Mr. Fitz is terrific. OK, full disclosure. David Finkle is an old friend and grew up in Round Lake. Now he is an English teacher in Florida. I bet most of us can identify with his strips.
Thank you for another successful VOTE-COPE drive!  During the 2012-13 school year we collected $2293 from 66 members for VOTE-COPE.  That is an increase of almost $300 and 5 people over last year.  Congratulations!
more
C-RTA, Tired Of Too Many State Tests?
NYSUT's next target is the state's obsession with testing. Did you see the full page ads in the newspaper, TJ and TU? Have you seen the petition on nysut.org asking "to end the over-reliance on high-stakes, standardized tests and to allow students to learn and teachers to teach?" NYSUT supports the Truth About Testing Act. This act contains two bills. One would prohibit state testing of students from kindergarten through second grade. The other would require the state to make a thorough review of testing costs, from development, to preparation, to administration, through grading. We want some data driven accountability too.
Read more at http://www.nysut.org/cps/rde/xchg/nysut/hs.xsl/ra.htm
Thank you to all who voted in this year's CRTA elections.
The results are as follows:
more
On Monday - Wear Blue and Share Blue!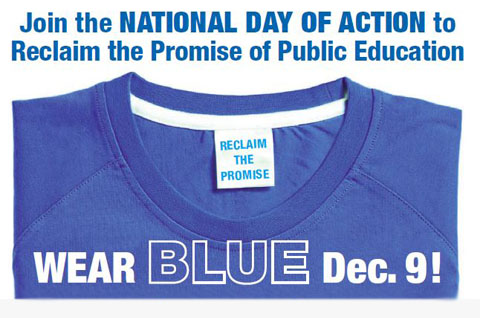 Go to NYSUT.org/dayofaction to learn what you can do to help reclaim the promise of public education. 
Pages